Church Open & Pastor Jim Page Intro Video
Church is open for Sunday and Thursday worship – Sign Up Link!
Peace church has reopened for services on a limited basis and with important health safety guidelines, which will continue to evolve and be updated.  Services will be at 8 am & 9:20 am WITH 10:30 am AN ONLINE ONLY SERVICE. We will have Thursday night worship at 7:00 pm in the worship space beginning June 25th.  Thursday evening   worship will include the same protocols and sign up as Sunday morning worship.
Jesus said, "You shall love the Lord your God with all your heart, with all your soul, with all your mind, and with all your strength.'  The second is this, 'You shall love your neighbor as yourself.' There is no other commandment greater than these." (Mark 12:30-31)
As the people of God at Peace Lutheran, we are seeking the best ways to "love our neighbor" as we plan to come together to worship.  Under the direction of church leadership, church staff and medical professionals the below guidelines will help open the church with your health and safety in mind.
As always, we know you will take care for your own safety and the safety of others.  If you are comfortable being present that's wonderful. If the time is not yet right for you, we will continue our Live Facebook worship at 9:20 as usual.
Steps the church is taking to have an engaging yet safe service for in-person attendees:
Seating will be limited to about 80 participants per service
Families or co-worshipers will be able to sit together in groups
Those groups will be seated six feet away from the next nearest group
Only every third pew will be open to ensure six feet "front to back" social distancing
All worshipers will be asked to wear masks (please bring your own)
There will be no communion
The nursery will not be open (child-care will be unavailable)
There will be no donuts or coffee (our sincerest apologies), and that space will be cordoned off
There will be no hand-shaking and no bulletins or hymnals (the service will be shown on screen)
There will be no children's activity bags
Services will be about 45 minutes long, to allow time to disinfect / clean between services
Steps we're asking all attendees to take to ensure a safe service:
Please wear masks and abide by all of the social distancing guidelines, above
Please stay home if you are not feeling well especially if you have a fever or symptoms concerning for respiratory illness
Beginning Monday, June 8th, register yourself and each family member for an upcoming service in advance, via the church website (www.peacelc.org) or by phone (920.865.7595) so we can manage to keep attendance about 80 total attendees per service (for safety)
Please use the main entrance only when entering or leaving church
SignUpGenius Sign Up 
As we transition to worshiping together, guidelines are such that we are limited to the number of worshipers we can seat in our worship space.  To ensure we do not surpass the directed number of 80 per worship service, you are asked to sign up using SignUpGenius, if you are planning to worship in person at church.  If you do not have access to the internet, please call the church office (920 865-7595) and church staff will sign you up for a worship date and time of your choice.
Here is the link to sign up: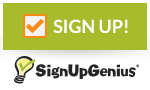 You can use any electronic device to sign up.  The sign up link will be active on our website (www.peacelc.org) as of Monday, June 8th.  The link will also be sent to anyone who is on our General Interest list for Constant Contacts emails.  If you would like to be added to this list, please send an email to the church secretary, melissa@peacelc.org.
If you would like to help clean the worship space between services, volunteers can contact church administrator, jim@peacelc.org or call 865-7595.
Over time, with Covid-19 cases controlled and heading in a positive direction, it is our hope that attendance numbers can be increased.  We thank everyone for their patience and collaboration at this time.
Peace Helpers
During the Covid-19 outbreak and quarantine, If you are unable to get out and about to get groceries and essentials or are in need of a warm meal, there are several church volunteers available to help  you get what you need. Please call the church at (920) 865 – 7595 and we will coordinate with those volunteers to help those in need.
Pastor Jim Page Introduction:
Message from Pastor Jim Page
"And Introductions were made…"Pastor Jim Page made this video for us to get to know him and his family!

Posted by Peace Lutheran Church – Green Bay on Saturday, June 13, 2020
"Dear members of Peace Lutheran,
Through prayer and trusting in God's guiding presence, it is with great joy that I accept your call to serve as one of your pastors. 
The call committee graciously welcomed my family and me during our visit while ensuring that our time together was informative and enjoyable. My meeting with the staff was great and visiting with Don Behrendt was beneficial.  I look forward to working alongside Pastor Stuart in shared pastoral ministry (though I only own just two LEGO sets).
I ask you to hold the congregation of Apostles Lutheran in your prayers as God leads them forward in this significant time of transition. 
Please hold my family and me in prayer as we prepare to say goodbye to a congregation that we have loved as well as to many friends.
Thank you for this opportunity. I look forward to meeting all of you and being a part of the vibrant and strong congregation of Peace Lutheran!
Blessings to you,
Pastor Jim Page
---