SignUpGenius Sign Up 

Worship Schedule
Worship is held in-person at all three services (8, 9:20 & 10:30) with the 9:20 service shown on-line, Facebook Live.  We have Thursday night worship at 7:00 pm in the worship space. 
Peace church is open for services with important health safety guidelines, which will continue to evolve and be updated.   
Jesus said, "You shall love the Lord your God with all your heart, with all your soul, with all your mind, and with all your strength.'  The second is this, 'You shall love your neighbor as yourself.' There is no other commandment greater than these." (Mark 12:30-31)
As the people of God at Peace Lutheran, we are seeking the best ways to "love our neighbor." Under the direction of church leadership, church staff and medical professionals the below guidelines will help open the church with your health and safety in mind.
As always, we know you will take care for your own safety and the safety of others.  If you are comfortable being present that's wonderful. If the time is not yet right for you, we will continue our Live Facebook worship at 10:30 Sunday mornings.
Steps the church is taking to have an engaging yet safe service for in-person attendees:
Seating will be limited to about 80 participants per service
All worshipers will be asked to wear masks 
Families or co-worshipers will be able to sit together in groups
Those groups will be seated six feet away from the next nearest group
Only every third pew will be open to ensure six feet "front to back" social distancing
The nursery will not be open (child-care will be unavailable)
There will be no donuts or coffee (our sincerest apologies), and that space will be cordoned off
There will be no hand-shaking and no hymnals (the service will be shown on screen)
There will be no children's activity bags
Services will be about 45 minutes long, to allow time to disinfect / clean between services
Steps we're asking all attendees to take to ensure a safe service:
Please wear masks and abide by all of the social distancing guidelines, above
Please stay home if you are not feeling well especially if you have a fever or symptoms concerning for respiratory illness
Register yourself and each family member for an upcoming service in advance via the church website (www.peacelc.org) or by phone (920.865.7595) so we can  keep attendance about 80 total attendees per service (for safety)
Please use the main entrance only when entering or leaving church
SignUpGenius Sign Up 
As we transition to worshiping together, guidelines are such that we are limited to the number of worshipers we can seat in our worship space.  To ensure we do not surpass the directed number of 80 per worship service, you are asked to sign up using SignUpGenius, if you are planning to worship in person at church.  If you do not have access to the internet, please call the church office (920 865-7595) and church staff will sign you up for a worship date and time of your choice.
Here is the link to sign up: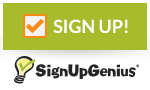 You can use any electronic device to sign up.  The sign up link will be active on our website (www.peacelc.org) as of Monday, June 8th.  The link will also be sent to anyone who is on our General Interest list for Constant Contacts emails.  If you would like to be added to this list, please send an email to the church secretary, melissa@peacelc.org.
If you would like to help clean the worship space between services, volunteers can contact church administrator, jim@peacelc.org or call 865-7595.
Spring Book Group Begins April 21, 2021
Everyone is invited to register for a new book discussion group led by Pastor Jim that will focus on Barbara Brown Taylor's An Altar in the World. Taylor will reveal how we can see the sacred in everyday life through such simple acts as walking, folding clothes, cooking a meal and chatting
with the cashier at the grocery store. It is those situations that become 'altars in the world' in connecting with the presence of God, with other people and with our inner spiritual life.
Use this link to sign up!
https://www.signupgenius.com/go/60B0B4BA4A829A1FF2-book

Details:
When: Wednesdays, April 21-May 26 via Zoom
Time: 6:30pm-7:30pm
Cost for book: $11
Register: peacelc.org (Deadline is April 11)
Group size: limited to 12 people
Biography for Barbara Brown Taylor
Taylor is a former Episcopal priest who teaches at Piedmont College in northeast Georgia and is an adjunct professor of spirituality at Columbia Theological Seminary in Decatur. She is regarded as one of the greatest preachers in the United States and in 2014, Time magazine placed her on the list of 100 Most Influential People in the World.
Ladies Tea, 2021 – Virtual
Full Circle is excited to announce the virtual event with the theme "Possibilities", Through God all this are possible.  The Ladies Tea will be held on April 24th   from 9:30 to 11:30 am.  Please register for the event now through April 16th by reaching Jennifer Sinkula by email, ewebjen@yahoo.com. 
Event boxes (tea kits!) for all attendees will be at church for pickup on April 18th.